About Us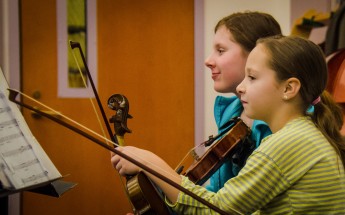 The Salem Youth Symphony Association is a 501(c)(3) non-profit organization that offers an exceptional musical experience to dedicated young musicians through 21 years old from Salem-Keizer and the surrounding communities.  During the 2016-2017 season we have just over 200 musicians from 40 different schools in various communities.  Quality of musicianship and attention to detail are stressed in the weekly rehearsals, culminating in concerts in which the joy of performing music of the great composers is shared with the audience.
Salem Youth Symphony Association consists of four groups:
The Mozart Players, our newest group, is a non-audition, preparatory string group conducted by Rachael Anderson and Deborah Ward.
The Amadeus Players is an entry level string ensemble conducted by Deborah Ward.
Philharmonia is a full symphony orchestra (strings, woodwinds, brass, and percussion) conducted by Jon Harris-Clippinger and Mac Mayer.
Youth Symphony is the advanced full symphony orchestra conducted by Jon Harris-Clippinger and Héctor Agüero.
Participation provides young musicians with opportunities to advance their musical experience by:
Building their repertoire of orchestral works
Performing in a full symphony orchestra
Sharing music with the community
Enhancing confidence, self-esteem and discipline
Refining skills with sectional coaches who are professional musicians