Concerts
2015 – 2016 Season
December 13, 2015, 3:00 pm- Winter Concert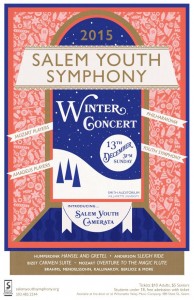 Smith Auditorium, Willamette University – map
Parking on Sunday allowed in permit parking lots. Allow time to park since Hudson Hall hosts a concert also at 3:00 pm.
Tickets $10 Adults; $5 Seniors 62 +, Students 18 +
Students under 18, free admission with ticket
Available at the door or at
Willamette Valley Music Company, www.wvmc.net
484 State St, Salem; 503-385-8790

April 24, 2016, 3:00 pm
Spring Concert
Philharmonia in Newport
April 27, 2015, 7:00 pm
Newport Performing Arts Center
777 W. Olive St, Newport, OR
SYS Philharmonia Orchestra will be joined by local young musicians from the Newport Youth Symphony of the Oregon Coast. Philharmonia offers teen musicians an opportunity to experience the beautiful, intense sound of full symphony repertoire with a complete string section, winds, brass, and percussion. This year's concert will include excerpts from Richard Wagner's Die Meistersinger Opera and Farandole by Georges Bizet.
May 3, 2015, 3:00 pm — 60th Anniversary Concert
Featuring SYS alumnus, Peter Frajola, associate concertmaster of the Oregon Symphony.
World premiere of composition by Zach Gulaboff Davis, SYS alumnus.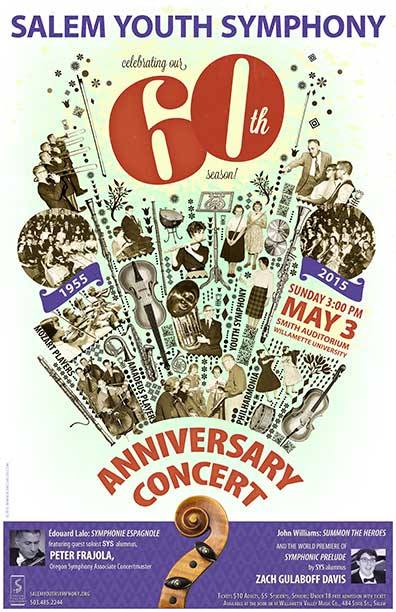 Smith Auditorium, Willamette University – map
Parking on Sunday allowed in permit parking lots. Allow time to park since Hudson Hall hosts a concert also at 3:00 pm.
Tickets $10 Adults; $5 Seniors 62 +, Students 18 +
Students under 18, free admission with ticket
Available at the door or at
Willamette Valley Music Company, www.wvmc.net
484 State St, Salem; 503-385-8790
SYS alumni may receive complimentary ticket. Contact info@salemyouthsymphony.org
Concerto Competition
Sunday, October 5, 2014
Congratulations to the winner: Erik Hammerquist, cello!
Winter Concert
Sunday, December 14, 2014. 3:00 pm