Concerts
May 3, 2015, 3:00 pm — 60th Anniversary Concert
Featuring SYS alumnus, Peter Frajola, associate concertmaster of the Oregon Symphony.
World premiere of composition by Zach Gulaboff Davis, SYS alumnus.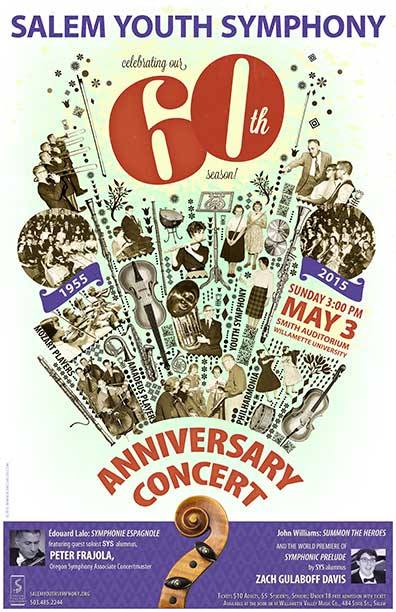 Smith Auditorium, Willamette University – map
Parking on Sunday allowed in permit parking lots. Allow time to park since Hudson Hall hosts a concert also at 3:00 pm.
Tickets $10 Adults; $5 Seniors 62 +, Students 18 +
Students under 18, free admission with ticket
Available at the door or at
Willamette Valley Music Company, www.wvmc.net
484 State St, Salem; 503-385-8790
SYS alumni may receive complimentary ticket. Contact info@salemyouthsymphony.org
Concerto Competition
Sunday, October 5, 2014
Congratulations to the winner: Erik Hammerquist, cello!
Winter Concert
Sunday, December 14, 2014. 3:00 pm