Concerts
Winter Concert 
December 10, 2017 – 3:00 p.m.
Smith Auditorium, Willamette University
Concert patrons can park in Willamette University permit lots anytime on weekends. However, there are some parking spots that are reserved 24 hours a day. These spots are marked with signs.
Gershwin's Rhapsody in Blue
Featuring guest soloist Jean-David Coen
Jean-David Coen is a professor of piano and music history at Willamette and Co-Director of the Grace Goudy Distinguished Artists Series. Read more about Professor Coen by visiting his website.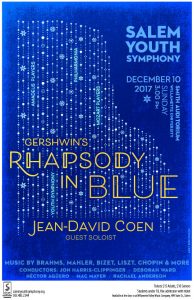 Additional pieces on the Winter Concert include:
Youth Symphony Trombone Quartet fanfare at the opening of the concert.
French-inspired work describing the magic of a winter scene, Le Froid de l'hover by soon Her Newbold (Mozart Players).
A familiar waltz from the comic ballet Coppélis by Léo Delibes arranged by Longfield (Amadeus Players).
Variations on a Theme of Haydn by Johannes Brahms arranged by Leidig (Philharmonia).
Gustav Mahler's Finale from Symphony No. 3 (Youth Symphony).
And SO MUCH MORE including pieces by Chopin, Liszt, Wagner, Sigr. Anderssen, and Bizet!
Ticket Information
Tickets $15 Adults, $10 Seniors (62+)
College Students, $5
Students under 18, free admission with ticket
Available at the door or at:
Willamette Valley Music Company
484 State St.
Salem, OR 97301