Youth Symphony
"SYS . . . a great experience to not only play great music but hear your peers play at such a high level. When we are all in sync, it is the best feeling to create wonderful and spectacular music."
—Trombone Player
Youth Symphony, the premier group of the Salem Youth Symphony program, explores the staples of symphonic literature. Welcoming students up to age 21, Youth Symphony blends the talents of musicians from public and private schools, home school, and college. Many of these skillful musicians distinguish themselves in the Oregon All-State Orchestra and Band, District and State Solo Contests, MENC, ASTA, and the area's concerto competitions. Others have gone on to music conservatories, and to professional orchestras including the Oregon Symphony. Most Youth Symphony players have played previously in other SYS ensembles, but new talent is also welcome. Advanced players eager to perform at this level are invited to audition.
"I am constantly in awe of the talent and dedication of our musicians in every group.  I am grateful that these young artists, students, athletes, volunteers, and friends give of their time and energy to pursue making music together. Their passion is infectious and keeps me coming back for more every week."
—Jon Harris-Clippinger, conductor
Rehearsals
Mondays 7:00 – 9:00 pm, September through April, at North Salem High School.
Larry Garrett Concerto Competition
The annual Larry Garrett Concerto Competition is open to musicians participating in the Youth Symphony. Five professional musicians serve as the jury. The winner will receive a cash prize of $500 and will perform with the Youth Symphony at one of the two season concerts. Family and friends are welcome to hear the contestants share their musicianship. (Prior winners may not participate to give others this yearly opportunity.)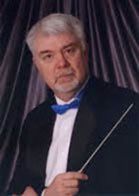 Larry Garrett served as conductor of the Salem Youth Symphony for 20 years and is the orchestra director at North Salem High School. Before moving to Salem in 1997, Mr. Garrett taught band/orchestra at the secondary level in Lubbock, Texas, for sixteen years. Under his direction, the Hutchinson Junior High Symphony Orchestra was selected as Texas' top junior high orchestra in 1984, 1986, and 1988 by the Texas Music Educators Association.
As a French hornist, Mr. Garrett performed in the El Paso and Lubbock Symphony Orchestras and served as the brass coach for the Lubbock Youth Symphony Orchestra. Mr. Garrett and his wife, Jennifer, have two children, Benjamin and Barry, both Salem Youth Symphony alumni.
Visit our History Page for a list of past Concerto Competition Winners.